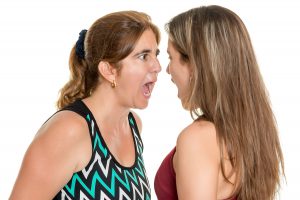 Learn how to resolve an upset with your teen easily, with a few simple steps. Here are the important actions to take to get to reconciliation after a disagreement or misunderstanding that has resulted in anger or broken an otherwise loving relationship. Teach this process to your teen.
NOTE: While this exercise was written for parents and their teen children, it can work to resolve an issue with anyone.
Learning how to resolve an upset with your teen requires these steps:
1) First, take responsibility for not "getting" them, even if you think you have. They don't think you understand them or their issues or what they want or need to be happy. So you are not "getting it" in their eyes. Suck this up. Let them be right, just for now.
2) Listen to what they have to say about the situation and look at where you can improve how you are supporting them or understanding them or communicating with them. Ask them where you've failed to do this. And where you have succeeded. Have a frank conversation. 
NOTE: If this interplay gets heated for either of you at anytime. Put it on pause for both of you until you both came come back to the table in a calm manner.
4) Repeat what they ask for back to them.

Use their words

so they know they have been heard. (This is critical.) If they say: "I need you to stop nagging me." Say "Ok I understand – I need to stop nagging you. And I will."  Not: "I will stop bugging you to get off the couch." Use the exact words they use. Only then will they know they have been heard by you. If you get it right you'll get a positive response.
4) Tell them you want to work with them as a team – together, to get them well. Ask for their buy in. If this isn't a depressed person, find out what they are struggling with and offer to be a teammate on that.
5) Tell them you'll do whatever it takes to get them well. Ask for a commitment from them to get well, and do what it takes.
6) Finally, tell them you are out to become an expert in depression (or their problem issue) because knowledge is your secret weapon in this fight. You can't win unless you know the enemy extremely well.