Help for parents of depressed teens
Dear parent…
As a parent of a depressed teen, you probably know that the numbers are frightening…
At least 25% of teenagers in North America this year will suffer from varying degrees of teen depression
24% of U.S. high school students have seriously thought about attempting suicide.
The ratio of suicide attempts to suicide death in youth is estimated to be about 25:1.
More males than females are successful (by a factor of 4 because they use guns over pills).
Teen depression is serious and there is a lot to know as a parent if you're watching your teen suffer and want to prevent a crisis situation.
Your first step is this:
ACT NOW. DON'T WAIT. You don't have time to waste. Take an action now even if you think your teen isn't in bad shape.
That said: You likely know this.  In fact it's likely what brought you here.
So first: Great work! You're on the right path to getting your teen out of suffering.
Still – you may be struggling with knowing what to do. Or, you may have tried to help, but you've been unsuccessful. If you're looking for more strategies.
Wherever you are….it's ok.
If you are looking for a quick guide on what to do…start with this book…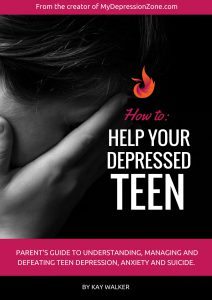 It's free for Amazon Prime members and less than $6 for everyone else. CLICK HERE
Working with depressed teens can be a challenge. And very stressful. When your kid hurts (no matter what age), you hurt too.
Often, teens can be stingy communicators. Some are embarrassed about their struggles. Some don't know how to talk to their parents or close friends about tough situations they are dealing with.
Here's the good news, however…
Teens have an advantage over older depression sufferers. They are young and have time to learn critical skills for dealing with challenges in life. Skills learned now can prevent a crisis during adulthood. As a parent or caregiver, it's part of your job to train them.
All the tools you need for helping them out of their depression and instilling strong mental health skills are here at Depression Zone.
You first job is to educate yourself immediately.
Here are three easy steps:
Grab this free checklist for parents with depressed teens. Do the checklist and review the actions to take.
Next read our Start Here page.
Also go download this: How to help Your depressed teen: A guide parents. (Free for Amazon Prime members and under $6 for everyone else.)
Knowledge is key and it will help you uncover new actions to take.
Here are some of our most popular depressed teen caregiver resources:
Video: How to get your teen to take positive actions