It's shocking that most people suffering from depression, well actually, most people in general, do not know about ontology. There are therapeutic disciplines that use it and it has been found to be highly effective.
There is a course for teens that uses it and is run by a company called Landmark Worldwide. Parents with struggling teens should consider the Landmark Forum course for their teens.
Here is a brief overview of what ontology teaches:
What is Ontology?
Ontology is, most simply, put the science of "being" (like psychology is the study of human nature). It is a school of thought that explores and uses fundamentals in existence, reality and being, as principle tenants.
Therapeutic disciplines that use ontology are interested in teaching people tools that allow them to be who they want to be at any moment that is in the present.
Experts from psychological disciplines would agree that humans have a tendency to act from past based tendencies or from thoughts about a future they would like to create. That suggests, that humans are rarely present in the moment.  And the actions that arise from this state of being, are not truly "being". This has a direct correlation to actions you choose to take. The actions you take relate to the life you build around you. In this sense, you never learn to be in the present you only learn where are coming from "having been" or "hope to be" and that changes our reality.
Ontologically rooted therapy helps train you to focus on the present and choose actively how you want to behave in that moment.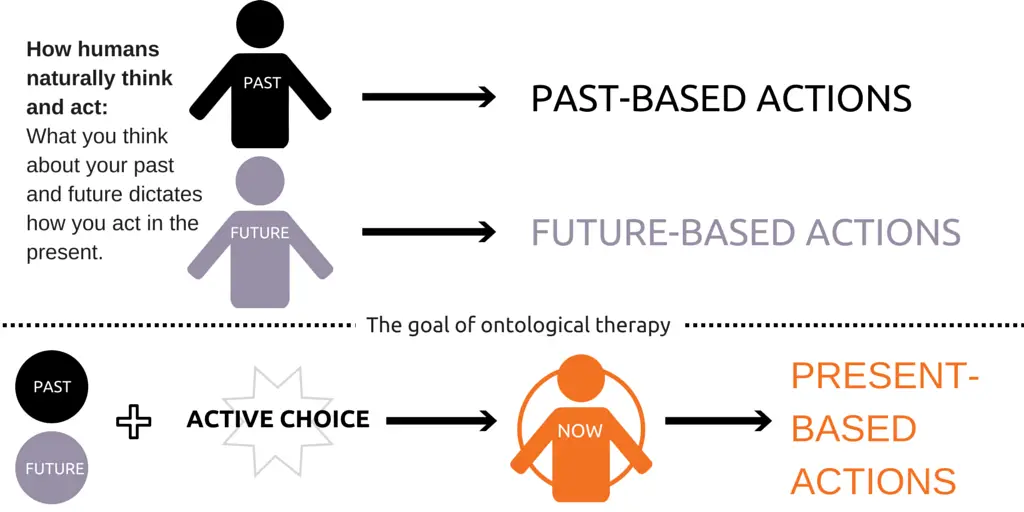 If you'd like to learn more about ontology, please reach out to coach Kay Walker at [email protected] She uses the therapy in her practice and can answer all your questions about it and direct you to any useful resources.