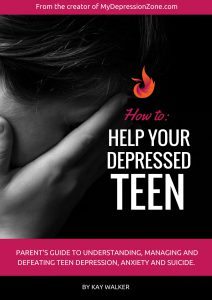 Depressed teens can be difficult to communicate with. As a parent you'll either find yourself dealing with sullen silence, a lot of tears, and even anger. Depression in teens can express itself in many different ways. This article helps you learn to figure out what to say to a depressed teen
There are five key phrases you can use with your teen that can open up communication, soothe them, and even start a dialogue that results in a strategy when you both create a plan to resolve the issue.
1) "I'm here for you. What do you need?"
Feelings of isolation and helplessness often consume a depressed teen and they don't know where to turn. Being a person they can go to will make them feel like they feel less alone.
2) "You can say anything to me and I won't judge you or be upset. I promise. All I want to do is help you feel better."
Teens feel like they cannot share their upsets, their problems, their frustrating or issues that they are dealing with for fear of being judged. Sometimes they feels like communicating will get them deeper into a problem and make it worse. You will need to create a safe space for them to say what they need to say and not feel like they are under threat of repercussions.
3) "Being depressed sucks. But it's not your fault."
Sometimes depressed people don't know why they feel the way they do. This is a great time to explain that depression is a sickness that some people suffer. And that there are things you can help them with to make them feel better.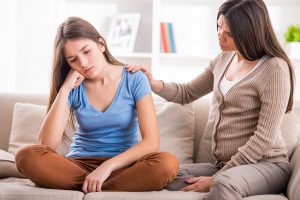 4) "What kind of thoughts are you having?" 
Depression can bring on dark or upsetting thoughts. This is extremely normal. Even occasional thoughts of suicide are normal. Almost everyone deals with this once or twice in their life. Have them express what they are feeling. Just have them talk and listen. Try not to interrupt until they are done.
WARNING: Persistent thoughts  of suicide for two weeks or more can be an indication of severity. This would require that they see a doctor as soon as possible. Intervention is necessary. Let them express themselves. Don't freak out yourself. Stay calm. Afterwards get support for yourself if this conversation upsets you. Arrange to get them to a doctor. The point here is to have them talk about how they are feeling and empathize and help them find a solution to how they are feeling. I go into detail about how to handling this in my book: How to Help Your Depressed Teen.
5) "I'll go with you."
A depressed teen needs an ally. They need someone to have their back and prop them up when they seek help. You could offer to take them to the doctor, or a counsellor, a therapist, or anyone else that you help them select. Go with them. Be their advocate.
Now that you know what to say to a depressed teen, learn everything you need to know as a parent to help them get better and feel like themselves again.  Download my book: How to Help Your Depressed Teen
***
Teen depression recovery expert Kay Walker is the author of the books How to Help Your Depressed Teen and The Feel Better Now Book. Click below for more details.